Trusted Company for Affordable Moving and Storage Services in MD, VA, and the Washington D.C. Region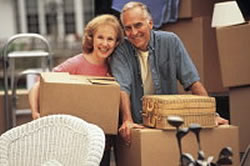 Meet your friendly and efficient moving partner for life. Johnson Moving & Storage Company is your premier source for expert relocation assistance in Maryland, Virginia, and the Washington D.C. region. From residential to commercial moving services, our trained, unformed, and experienced team can effectively carry out a smooth and well-coordinated move for you, regardless of the destination. Whether you need full-service VA movers for your office or affordable MD movers for your new home in another state, you can always call on Johnson Moving & Storage Company for consistently reliable service.
For us, it's not just about getting the job done. As a fully licensed and insured moving and storage company, we have established our reputation on great customer relations and effective relocation assistance that aims to ease the minds of our clients whenever we are called to help. We understand that moving can be a stressful, tiring, and at most times, an expensive experience. With this, we offer a variety of moving packages and strategic logistics to answer your specific needs and cater to your convenience. We take care of every client by handling their belongings with utmost care. And we always deliver results that meet and even exceed our customers' expectations.
Whether it involves moving in or out of an apartment, office, residential, or commercial space; whether it will take a short or long distance move; Johnson Moving & Storage Company can effectively assist you. We provide complete and affordable relocation services in the Washington D.C. area, including Maryland (MD) and Virginia (VA). Call or email our movers and get a service quotation today.
We can handle all your moving needs, be it apartment, home, office or commercial.
Serving DC, MD, VA
1532 Ft Davis Street SE
Washington, DC 20020
202-329-5995

We are fully licensed and insured and maintain an exemplary record with our clients and the Better Business Bureau.



We accept all major credit cards.